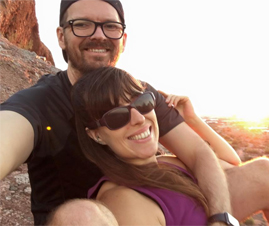 We are David & Elizabeth Schardt and our company is Fast Track Home Buyers & Freedom Real Estate LLC.  We are a local husband & wife buying team that has been involved in Real Estate since 2002. We are real people, just like you. We run our business with ethics and always strive to ad value to everyone involved.
David is an expert in many aspects of Real Estate and does it full-time. Elizabeth is a full time English teacher for a local High School. Although she loves Real Estate, she has a passion for giving back to our community and helping to make the world a better place.  We live in Phoenix with our 17 year old son.
We really love the valley and everything it has to offer. Every Sunday we have a traditionally "New Mountain Every Sunday" hike. We are running out of new trails to hike, but that's ok.
We make sure that every property we buy is a win-win for everyone involved. There are too many so called investors out there that use super high pressured sales techniques to buy properties for as low as possible, but we are different. We will not always be your best option, and we will be honest about it. Even if we can't buy your house, we can point you in the right direction and give you the contacts for the people that can help you.
Give us a call and let's have a chat. I promise, we don't bite. haha