This page will show you the correct way to determine "how much is my house worth in Mesa, AZ." I've been in Real Estate since 2002, and let me tell you…I've seen it all when it comes to people tryng to determine a value for their property. I've been a licensed sales person in Florida, I have bought my own rental houses, and I buy and sell all types of properties all day long. This is what I do, and I'm really good at the numbers part of this business.
Now, lets start with how most people determine a value for their home. They hop on the internet and go to sites like: Zillow, or Trulia, or Redfin…and they see the "Zestimates," or the estimated value. Welp, that may be a good starting point…but it's never a real estimate for the value of your home. Those sites have gotten better over the years, but it's still impossible for them to give an accurate value. Their are too many factors that are involved that need to be looked at with a human eye.
The only true and correct way to determine an accurate value or sales price on your home is to literally see what buyers are currently willing to pay for it. The only true method is to use the same method as Fannie Mae & appraisers. It's called the sales comparison approach. I'm sure you've heard the term "comps" before, but it's literally looking for similar properties that have recently sold in the same nieghborhood.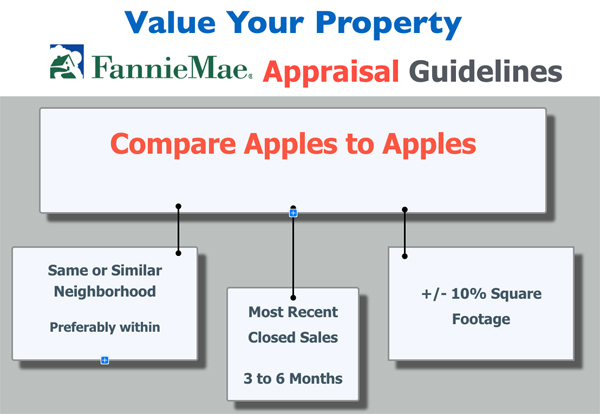 Sounds simple right? Well sometimes it's easy to do, but most of the time it takes a lot of digging to find the right comparative sales that are as close to your property as possible. Let's talk about the first piece: the location. You need to find comps that have sold in the same neighborhood if possible. You can't cross any major streets or highways. If you do need to look in surrounding neighborhoods, they need to be very similar.
The next piece is that the comps need to have actually sold. Remember, you can list your house for any price you want…but that doesn't mean anyone will buy it. I here all the time from sellers that say "the house down the street is listed at –> insert super ridiculous amount here <–. I pull it up and say, well that's the reason it's been on the market for a year and hasn't sold. Also, just because you list your house for a price usually doesn't mean you will get that price. Nobody offers full price. The only way to get an accurate value is to look at houses that have actually sold in the past 3 to 6 months.
The finale part can be the most difficult. You need to look for similar style houses in the same condition as yours. Another thing I see all the time is sellers thinking that their house can sell for top dollar even though it hasn't been updated in 30 years. They under-estimate the amount of money it takes to completely renovate a house to bring it up to a selling standard. So, look for homes that are as similar in every way to yours. Similar square footage, similar bedrooms & baths, close to the same year built, same lot size, with or without pool, same architecture, and the same condition.
Now, take the 3 most similar comparative properties that have sold in your same neighborhood in Mesa Arizona, and average them together, and that is your estimated sales price.
Is your sales price what you walk away with after closing? No way. In a traditional sale, you have many selling costs that will come out of that sales price. 6% Realtor Costs, 2% to 4% closing costs, 3% seller concessions, repair & update costs, holding costs while selling (traditional sales could take up to 6 – 9 months). All of this ads up to tens of thousands of dollars in extra fees that you have to pay for.
Previous –  Sell My House For Cash | Next – Sell For Market Value